PROJECT HISTORY
The development of "8" has been uncommon so far. Partially because it concerns an extraordinary product and partially because the people who are making it, Auriea Harvey and Michaël Samyn, are not your usual suspects when it comes to game development. This text will attempt to explain where the developers are coming from and where they are heading. And how.

Prehistory
Our background lies in internet art. After having run our individual businesses for several years, Auriea in New York City and Michaël in Ronse, Belgium, we merged in 1999 to become "Entropy8Zuper!". A succesful collaboration that lead the numerous awards, gallery and museum shows, workshops, presentations and press.
Dissatisfied with the limitations of internet technology, however, in early 2001, we started developing ideas for a game that would later become "8". By that time, we had made several game-like websites and internet-based real-time 3D environments. But nothing of the magitude of a full blown computer game.

First prototype
In April 2002, we were accepted by the Design Department of the Jan Van Eyck Academy in Maastricht with our proposal of doing theoretical research into computer game design and producing a game demo. Thanks to additional funding from the Flemish Institute for Independent Enterprise and the Authorities of Flanders, we succeeded in designing a complete game, constructing a 3D game world and developing a playable prototype by October 2002.
Just like we had done when making projects for the web, all the work on "8" so far had been done by the two of us alone. We started from scratch, learning new technologies, acquiring new skills, learning how to design a game and organize its production. Meanwhile we tried to get comfortable with the game industry, a very different environment from the arts world. For the first time in our lives, we were attending conferences in the audience, rather than being invited to speak at them.

First demo
After a first redesign of the game engine and with some help of a professional 3D artist, we presented a first polished demo of our game in October 2003, called "The Formal Dining Room". We used this demo to thoroughly test the game's interfaces and the response to the aesthetic style we were starting to develop. It was this demo that was shown in the Utrecht Level Up Conference of November 2003.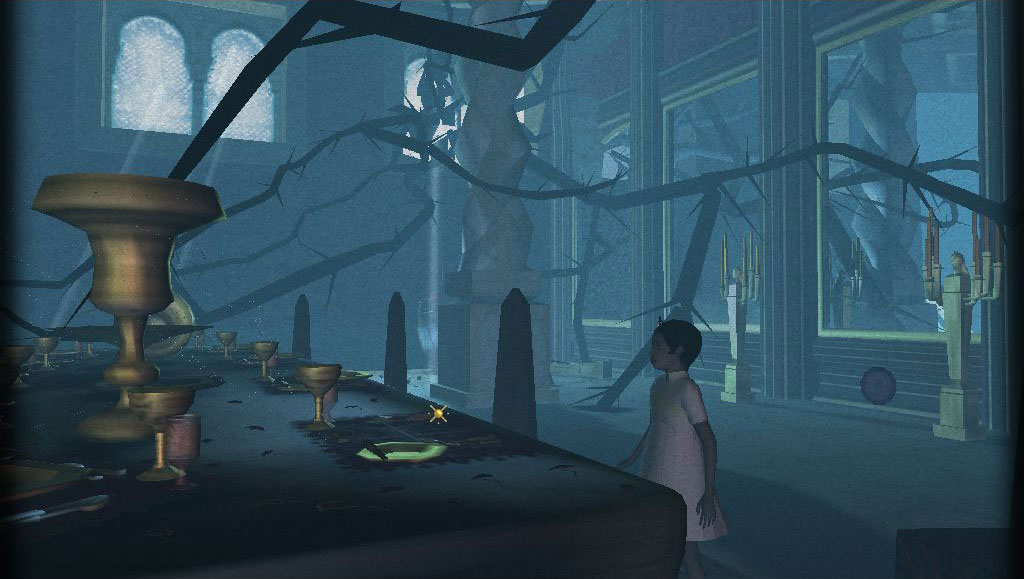 Pre-production mile stone plan
In September 2003, the Flemish Audiovisual Fund (VAF) had granted us 100.000 Euros as co-funding for the production of the complete game (then estimated at 500.000...). We felt, however, that the demo we had made was not good enough to try and persuade a publisher and start production. In agreement with the funders, in November 2003, we entered a mile stone plan with the aim of producing suitable materials to pitch the game and putting together a solid team that could take care of its production. To accomplish this, we started the company "Tale of Tales BVBA".

Game trailer
Inexperienced as we were, we had made the mile stone schedule far too ambitious. The factor that we had underestimated the most was management and team work. Before this project, we had always been very happy limiting the scope of what we did to what we could handle on our own. Given the size of the "8" project, this was not going to be possible. Naively, we tought that hiring some experts was going to solve this problem. As we have learned in the mean time, hiring people is an artform onto itself and experts with a sensitivty for our project are not available in abundance. So the first big mile stone of producing a trailer for the game was a failure.

Second demo
At least in terms of production. In terms of acquiring management experience and finding good people to work with, it was an enormous success. Key players in the smaller team assigned to the production of our second demo were Lina Kusaite for character design, Ronald Jones for programming and Laura Smith for animation. For the creation of 3D assets we worked with Meerkat Studios from Estonia and Dragonfly Production Studio from Ukraine.
In August 2004, we finished our second demo, entitled "The Theater Gallery Tragedy". Despite the fact that it still contains many errors and flaws, we think it does illustrate the potential of our game design sufficiently. And what's more, perhaps, we have now gathered the experience and the team to confidently start production of the game.

Current situation
We are currently back to a two-person company, with the exception of a few minor freelance collaborations. Our focus is now on finding partners for production and publishing. We have
a complete and original game design
a hopefully persuasive demo
a fully blocked out game world
a nice collection of concept drawings and 3D assets
a fully designed game engine
a unique aesthetic style
a good team to start production with
a clear vision on what we want this game to be
a good grasp on how to organize production



Future of the project


Tale of Tales is a company run by artists. "8" is a project managed by artists. This is why our game design is so beautiful and entertaining. But this is also why we will need help with production. For this purpose we will hire people to fill key management positions. And we hope that we can find a publisher who can help us with this aspect of the project as well.
We have made schedules and budgets. But given our lack of experience, we feel that we should review these with an expert. We would like to do this at the very start of the production, simultaneously with drawing up a solid mile stone plan. We have no interest in starting this project under false assumptions.



Future of the company


The mile stone plan with the VAF ends in November 2004. If we haven't found funding for game-related projects by then, we will go back to web design to support the company. We are, however, not giving up on game development. We have already started the production of a second game, an online multiplayer game supported by the Luxemburg Musée d'Art Moderne Grand-Duc Jean. And there is of course the franchise idea of having the main character of "8" visit many different fairy tales.

But let's start with "8".